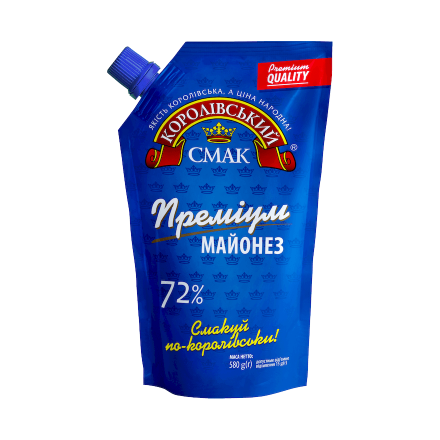 Premium mayonnaise 72%
Designed for the best!
"Premium" mayonnaise of the King Smak has a delicate texture due to selected sunflower oil of its own production and dry fermented yolk.
It has a unique and refined taste and aftertaste that will pleasantly surprise you.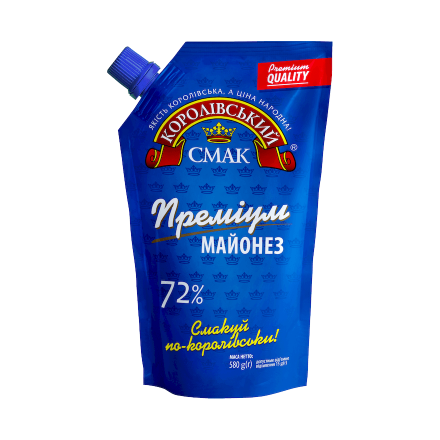 Premium mayonnaise 72%
Created for you!
Mayonnaise 72% "Premium" is suitable for use in both cold and warm (hot) salads and snacks.
Size for every taste!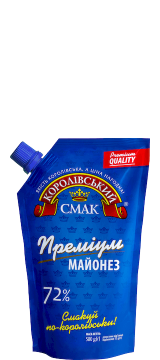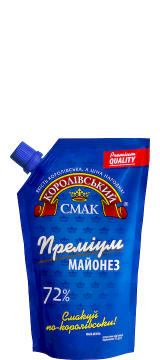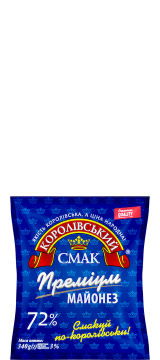 580 g
Тара

Doy-pack (nozzled)

Shelf life:

120 days

Store at temperature

between 0°C and +25°C

Manufactured according to

DSTU 4487:2015
300 g
Тара

Doy-pack (nozzled)

Shelf life:

120 days

Store at temperature

between 0°C and +25°C

Manufactured according to

DSTU 4487:2015
160 g
Тара

Doy-pack

Shelf life:

120 days

Store at temperature

between 0°C and +25°C

Manufactured according to

DSTU 4487:2015
340 g
Тара

Fill pack

Shelf life:

120 days

Store at temperature

between 0°C and +25°C

Manufactured according to

DSTU 4487:2015